Order Wings' modular 5
Wings' modular features
Support
Share
Designer module™
---
Designer module requires the Digitizing module to be already installed in Wings' modular®! This module allows you to use your favorite design package virtually inside modular. You can easily design an object in CorelDRAW® for example, copy it to the clipboard and then paste it in modular. You can also scan any image you want and then embroider it! It is now easier than ever to embroider any design! You do not have to design it from scratch; only cover the colored areas with stitches! Adds a clever and innovating tool that can auto correct embroidery errors and negligence. Unnecessary trims, forgotten trims, Fix/Lock additions or removals, are no more subjects to take time to correct. Less time, less effort and higher quality are three reasons for adding this module to your Wings' modular.
Convert designs to embroidery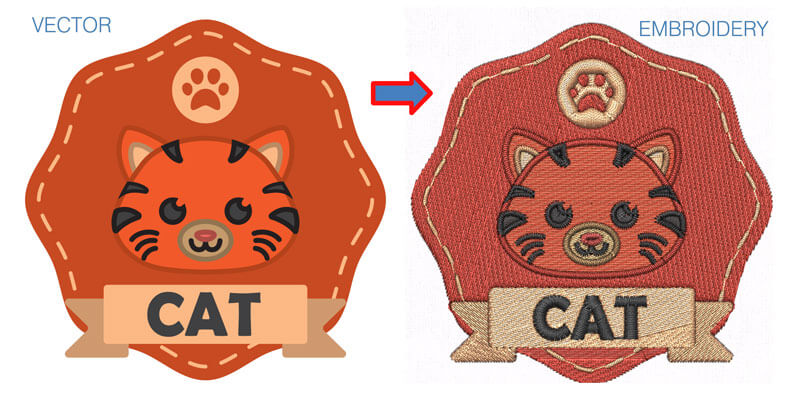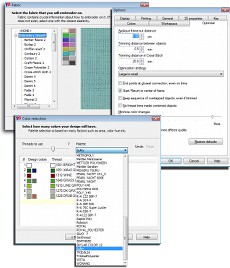 Wings' modular 5 has the ability to convert Vector and Bitmap graphic files to embroidery designs automatically. The only thing that is needed for you is to fine tune the design and send it to the embroidery machine. This feature can increase your productivity and decrease your effort without losing embroidery quality. In addition, with the graphic to embroidery conversion you get:
Automatic thread color reductions
Automatic embroidery design optimization during the conversion that improve the embroidery quality of the embroidery. The optimizations are made with the Artificial Intelligence that the software includes and the experience of embroiderers, who are experts in their field.
Select the fabric you will use and the software will automatically adjust the underlay, the density, the compensation needed and many more other options.
Select the fabric color that you will use and make a realistic preview of the final embroidery result.
Convert images to Photostitch automatically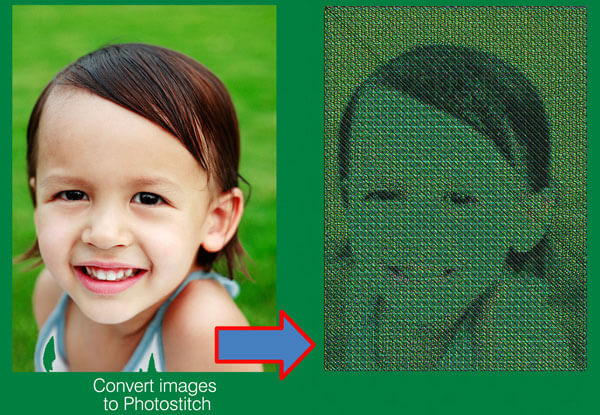 The new feature for the available Photostitch stitch type of Wings' modular software is that now you can easily convert any image you have to Photostitch with CMYK (Cyan, Magenta, Yellow and Key(Black)) colors automatically. A step by step wizard can convert you image to photostitch. The results are perfect with chromatic realism of the embroidery result.
OLE II (Object Linking and Embedding technology)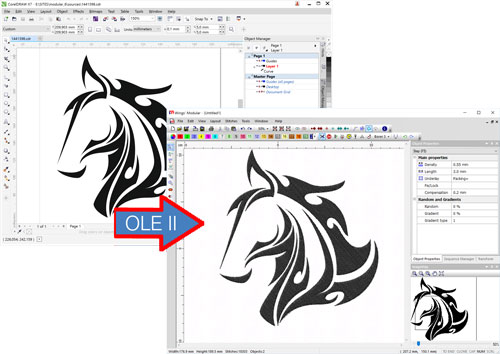 Chose an object designed with your favorite drawing program and paste it in modular
Modify the design in your favorite drawing program and watch modular get the changes automatically while you continue punching
Vector data pasted inside modular are automatically recognized and converted to stitches or remain as backdrop artwork
Scale both or one of the co-ordinates (stretch) of Vector backdrops
Rotate of the Vector backdrops, also by changing the rotation center
Slant of the Vector backdrops, also by changing the slanting center
Automatic recognition and fill of vector design areas
With the automatic fill you can digitize over a vector design quicker than ever. Different areas of a graphic are recognized with a single click and filled automatically with the selected stitch type.
Scan module tools: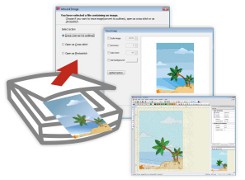 Acquire - Scan an image from the scanner
Select the software (source) that you will use for scanning
Scale both or one of the co-ordinates (stretch) of Vector or Bitmap backdrops
Rotate of the Vector backdrops, also by changing the rotation center
Slant of the Vector backdrops, also by changing the slanting center
Straighten bitmap - Rotate the selected bitmap backdrop by reference line
Convert scanned images to cross-stitch or photo-stitch embroidery designs
Convert scanned images to normal embroidery with a few clicks
A build in tracer is included in the software that will help you in the embroidery conversion steps
Use the scanned image as a backdrop and create your embroidery design from scratch.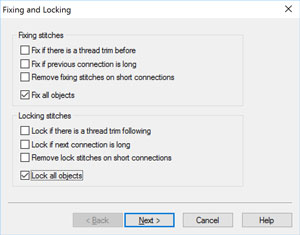 Cleanup Expert modifications can be done in four steps:
1. Fixing and locking - options:
Fix if there is a thread trim before an object
Fix if previous connection is long
Remove fixing stitches on short connections
Fix all objects
Lock if there is a thread trim following
Lock if next connection is long
Remove locking stitches on short connections
Lock all objects
2. Special Functions - options:
Add trims between long connections
Remove trims on short connections
Remove unnecessary trims
Add trims between all objects
3. Start - End Points - options:
Change the start of the object, after trims, to "Auto"
Change all object start-points to "Auto"
Change the end of the object, before trims, to "Auto"
Move end points to "Closest connection"
4. Rule Parameters - options:
Short connection is below a defined number
Process selected object
Preview list of operations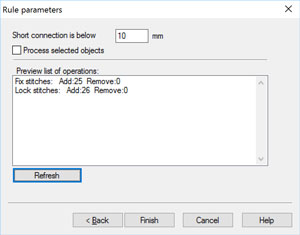 Designer module™ Video overview
---